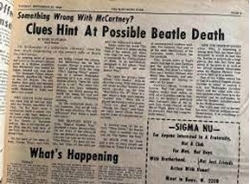 An illustration of Paul McCartney sits under the words "Paul Lives on!" The Northern Star Editorial Board apologizes to the singer for encouraging false rumors of his death. (Eleanor Gentry | Northern Star)
The Northern Star Editorial Board would like to sincerely apologize to Paul McCartney, a musical icon, for our false Sept. 23, 1969, print issue that unethically speculated that he was dead.
A 1969 Northern Star publication shows an article speculating if Paul McCartney is alive. (Bridgette Fox | Northern Star)
In 2004, the Star finally decided to yield to the truth that McCartney is not dead in an article covering the sordid history of the "Paul is dead" rumors.
However, it has recently come to light that our infamous 1969 article was plagiarized from a Times-Delphic article written a week prior to our article. The Times-Delphic is the student-run newspaper of Drake University.
To the Times-Delphic, we sincerely apologize for plagiarizing your journalistic efforts.
Source: northernstar.info