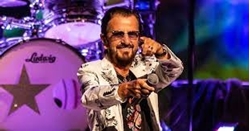 Ringo Starr says he's "ready to rock."
The perpetually youthful 83-year-old Beatles legend definitely looks the part. A constellation of blue stars decorate his denim jacket, the focal point of Starr's all-black ensemble. With shades shrouding his eyes, the world's most famous drummer looks remarkably fit, likely due to his vegetarian diet and appetite for exercise.
And rock he will. Ringo Starr and His All Starr Band have started the fall leg of a 2023 tour with more than 40 shows across the country. That includes a Sept. 27 stop at the Fox Theatre in Atlanta.
Source: By Jon Waterhouse – For the AJC