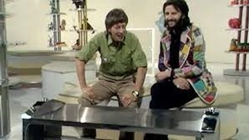 A ROLLS-ROYCE "invention" made by Beatles legend Ringo Starr has hit auction for a bargain price - but don't expect to drive it.
Ringo recycled two original Rolls-Royce radiators to make a stylish wood and metal table. He was inspired to design the table after passing a car showroom near his home in Highgate, north London. Appearing on Blue Peter to discuss the table in 1971, Ringo said that it had been tricky finding authentic Rolls-Royce radiators for the table.
Rolls-Royce would only sell radiator parts to customers with a chassis number - which Ringo did not have. Ringo ended up buying the radiators from a dodgy dealer - who delivered them on foot in a plain bag and would not say where he got them.
The table was produced by Ringo or Robin Ltd, a firm founded by the Beatles star and his craftsman friend Robin Cruickshank. The company's office was on the top floor of the Beatles' Apple Corps HQ on Savile Row.
Cruickshank also designed much of the furniture for Ringo's house in Highgate, north London. The table is 168cm long, 66cm high and 60cm high, with its middle section made from Amboyna wood.
Source: Harry Goodwin/thesun.ie