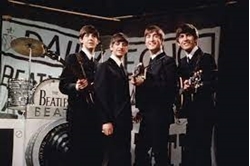 The Beatles are back inside the highest tier on the Hot 100 this week with their "last" single "Now and Then." The tune opens at No. 7 on the ranking of the most-consumed songs in the nation. As the Fab Four arrives once again, they break a number of records, including one held by perhaps the most famous piano star of all time.
As "Now and Then" debuts inside the top 10 on the Hot 100, it extends The Beatles' time between their first win and their latest on the chart. According to Billboard, the band now claims the longest span between a debut top 10 and the last to hit the uppermost region on the tally.
The Beatles first reached the top 10 on the Hot 100 back in January of 1964. The band's "I Want to Hold Your Hand" reached the competitive region, eventually climbing to the No. 1 spot. With their brand new smash, the band's span of top 10 wins is now more than 59 years long.
Before "Now and Then" hit the top 10, Elton John claimed this bit of history. His span was more than 51 years long. John reached the top 10 on the Hot 100 for the first time in January 1971 with "Your Song." He returned to the arena many times, most recently alongside Britney Spears on "Hold Me Closer." That tune, which also helped Spears find her way back to the top tier, reached the region in September 2022.
Source: Hugh McIntyre/forbes.com