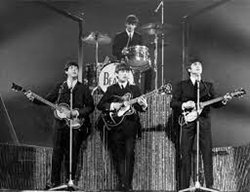 Sir Paul McCartney had doubts all the way through finishing The Beatles' last song Now And Then - but knowing the late John Lennon would have "loved it" kept him going.
From a demo Lennon recorded, they used groundbreaking audio technology to beautifully restore his vocals and "reunite" the group - which also included the late George Harrison and drummer Sir Ringo Starr, 83 - one last time.
However, McCartney, 81, admits he questioned himself throughout the process about whether or not they should be doing it.
He told MOJO magazine: "It's strange when you think about it. There's him in his little apartment in New York City banging away at his piano doing a little demo, and... our team has restored it so now it's a crystal clear, beautiful vocal. How much would John have liked that?! He would have loved that."
McCartney asked himself: "Is it a bit inferior? Is it something we shouldn't do? Am I pushing the envelope too far? But every time I thought like that, I thought, 'wait a minute, let's say I had a chance to ask John. Hey John, would you like us to finish this last song of yours?' I'm telling you, I know the answer would have been: 'Yeah.'"
Source: nzherald.co.nz