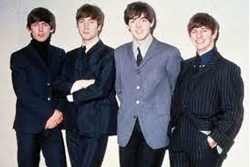 Much has been made of the fact that The Beatles have a new song out. The band used AI technology to finish a John Lennon demo titled "Now and Then," and the two remaining members, Paul McCartney and Ringo Starr, were able to complete the tune and put it out in the world. This week, it gives the band another major hit, and it helps them make history in a very specific manner.
"Now and Then" opens at No. 7 on this week's Hot 100. The chart tracks the most-consumed songs in the U.S. using a methodology that combines sales, streams, and radio play. The latest from The Beatles succeeds across all those metrics, and it may just be getting started.
With their latest top 10 hit, The Beatles have become just the second band in U.S. history to reach the highest tier on the Hot 100 in four distinct decades, according to Billboard. They join Aerosmith in this odd bit of chart history.
The Beatles first reached the Hot 100 in the 1960s. That decade would turn out to be their most productive, and it saw them reach the top 10 with dozens of songs. They returned again in the '70s, but that decade was when they officially split. They found their way back to the top 10 in the '90s with "Free as a Bird," which followed a similar trajectory to completion as "Now and Then."
Source: Hugh McIntyre/forbes.com