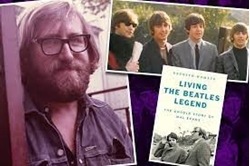 "Living the Beatles Legend: The Untold Story of Mal Evans" — the new biography of the Fab Four's roadie and personal assistant in their innermost circle — was titled "Living the Beatles Legend, Or: 200 Miles to Go" when it was Evans' own manuscript, the publishing of which was tabled after his untimely death in 1976.
And the tale behind that is just one of many magical mysteries unraveled in the book.
"The story comes from January 1963," "Living the Beatles Legend" author Kenneth Womack told The Post. "'Please Please Me' was about to be their first No. 1 single [in the UK]. This is do or die time. You gotta get down to London, be on all big shows. You know, it's now or never."
And when his fellow Beatles roadie Neil Aspinall got the flu, it was up to Evans to literally take them on the road from Liverpool to London during a snowstorm in the midst of the UK's historic Big Freeze.
"So England was essentially cut off by ice, and Mal drove them down — and Liverpool is 200 miles from London," said Womack. "On the way back, the windshield cracked and basically exploded. Mal knocked out all the pieces of it, as snow and cold air is flying into the van.
Source: Chuck Arnold/nypost.com