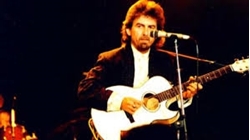 There's a lot of received wisdom floating around when it comes to the demise of The Beatles and their varying solo careers.
When it comes to George, the story goes like this. Fed up of playing understudy in The Beatles, he spent the band's final year's stockpiling incredible tunes that couldn't get a look in on Lennon and McCartney dominated albums and singles. He then released an amazing triple album, All Things Must Pass, and briefly became the most successful former fab.
He used his cultural currency to organise the first major charity concert, The Concert For Bangladesh, roping in some rockstar mates. After that it was diminishing returns with George letting his solo career trail off to concentrate on producing movies, driving fast cars and shagging Ringo Starr's wife. Most people know he had a big eighties hit with Got My Mind Set On You and not much else.
Source whatculture.com