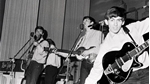 Did you ever get the feeling that the Beatles were having more fun than their fans?
For a while, they certainly did. While paying their dues in Hamburg, Germany, the Beatles enjoyed what one expert called "the wildest time of their lives."
I'm Chris Erskine (a.k.a., Ringo), filling in for Catharine Hamm on Escapes, as we trip out this week on the Beatles' drug-fueled formative years.
Travel writer Dean R. Owen reports many OMG moments in his exploration of the noisy, smoke-filled clubs where the band polished its act. Among the highlights: a three-hour walking tour of the joints, including the site of the Star Club where the Beatles and Jimi Hendrix performed in the 1960s.
"The trip provided me a completely different perspective of the Beatles," says Owen, a fan since the tender age of 8. "Rather than the mop-top, Edwardian-suited Liverpool lads on 'The Ed Sullivan Show,' I was able more clearly to envision John, Paul, and George in leather jackets, jeans and cowboy boots emulating Elvis Presley, Little Richard and other American rock 'n' roll icons."
Source: Chris Erskine/latimes.com