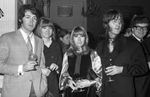 If you wanted to recount the breakup of The Beatles, you could start with the band's final single, "The Long and Winding Road." When the Fab Four began work on this track in January 1969, they were hardly on good terms. (Anyone who's caught the Let It Be documentary can see that.)
By the time "The Long and Winding Road" was about to be released (spring 1970), Paul McCartney was appalled at what the song had become. Once Phil Spector came in to salvage the Let It Be tapes, Paul's original concept changed so much it was nearly unrecognizable.
Spector's work, which included overdubs of an orchestra and choir, made a mockery of the album's "back to basics" concept. But Spector had his reasons for using a heavy hand in his role as producer.
Source: cheatsheet.com
details