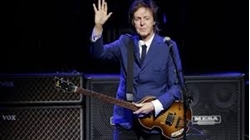 Paul McCartney has had a decade spanning career as a solo artist which would be the envy of almost any musician you care to mention. The artists who can claim his success or longetvity are few and far between. At the same time, he forever lives in the shadow of his achievements with The Beatles half a century ago.
His self title debut solo album featured the eternal classic Maybe I'm Amazed but was otherwise homemade and low key by design. For all its charm it felt like a minor work compared to the grand statements of John Lennon and George Harrison's solo debuts.
He regained popular acclaim in The Seventies with Wings But was seldom a critics' favourite and there's a pervading opinion that he was never as good without his old friends from Liverpool.
Source: whatculture.com