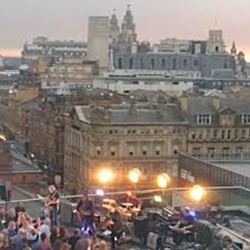 For a Beatles fan, attending a recreation of the Beatles last public rooftop concert from atop of a building in Liverpool is dream come true, and the recent Monday night concert last week on August 26 with perfect sunny weather was a once in a lifetime experience.
Jon Keats, Cavern City Tours Director and performer, led the audience in shouting "Hello Liverpool, We Love the Beatles" from the rooftop was sheer joy, along with taking in the fabulous performances by three different bands that started at 6:30 pm and ended sharply at the 10 pm curfew.
A picture tells a thousand words and the International BeatleWeek Rooftop concert from the top of the Shankly Hotel in downtown Liverpool says it all, with the landmark Royal Liver building in the background.
Source: Katie Hickox, Beatles News Liverpool correspondent