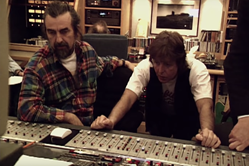 George Martin begged off. Even Paul McCartney said he was unsure at first. Producer Jeff Lynne, however, was thrilled at the prospect of a '90s-era Beatles reunion.
He'd been working with George Harrison for some time, producing his 1987 comeback album Cloud Nine and collaborating in the Traveling Wilburys. "One day, George said to me, 'You fancy doing it, then – the Beatles one?'" Lynne told the San Francisco Gate in 1995. "And I said, 'Uhhhhh, yes, please.'"
John Lennon's involvement came in the form of an old unfinished demo, recorded in 1977 for a planned musical called The Ballad of John and Yoko that was put aside in the wake of his murder. Yoko Ono provided the tapes that also included rough early versions of "Real Love" (which they later completed), "Grow Old Along With Me" and "Now and Then" (which they passed on).
Source: ultimateclassicrock.com