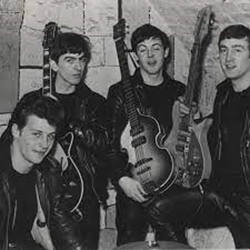 Before they were the Fab Four, there were five Beatles. The Beatles' former bandmates, Stuart Sutcliffe and Pete Best, never saw the level of success the band enjoyed, only playing with them in the group's earliest days. While they left for different reasons — Sutcliffe wanted a career change, and Best was fired — neither was treated particularly well by their former bandmates. Here are three ways that The Beatles treated their former bandmates poorly.
John Lennon was good friends with Sutcliffe, who played with The Beatles as a guitarist. Still, he often mistreated his friend.
"[Lennon] was a bit aggressive at first. If he found he could browbeat you then you were under his thumb," a friend, Billy Harry, told The Guardian. "He used to treat Stuart [Sutcliffe] really badly at times, humiliate him in front of people."
Still, Lennon said that he wasn't the only one who was consistently rude to Sutcliffe. Lennon noted that everyone teased him, particularly Paul McCartney.
"We were awful to him sometimes," Lennon said, per The Beatles: The Authorized Biography by Hunter Davies. "Especially Paul, always picking on him. I used to explain afterwards to him that we didn't dislike him, really."
Source: Emma McKee/cheatsheet.com