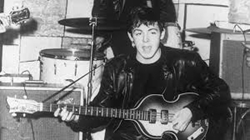 Sir Paul McCartney first found fame as the bassist and co-lead vocalist for the Beatles. Moreover, he has established his songwriting prowess largely as a part of the Lennon - McCartney. Together with fellow Beatle John Lennon, they both did music and lyrics, contrary to the usual partnership of a composer and a lyricist.Macca himself also wrote songs for others aside from The Beatles. Here are four songs, mostly written by Paul McCartney himself, for other artists:
"I'll Keep You Satisfied" (1963)
This hit single from Billy J. Kramer and The Dakotas is attributed to the Lennon-McCartney songwriting team. However, according to the Todd Compton book "Who Wrote the Beatle Songs? A History of Lennon-McCartney," Paul has written most of the track.
Source: Mark Alvin/musictimes.com