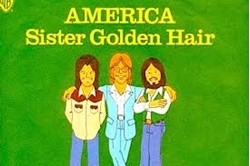 It's perhaps no surprise that America's "Sister Golden Hair" shares a Beatlesque guitar line, considering the presence of producer George Martin. But the connection actually runs deeper.
"I very openly tip my hat there to 'My Sweet Lord,'" composer Gerry Beckley told Songfacts in 2016. "I was such a fan of all the Beatles, but we knew George [Harrison] quite well and I just thought that was such a wonderful intro."
Martin brought a suitably deft production style to "Sister Golden Hair," which was released to radio on March 19, 1975. Elsewhere, a number of his artful touches bolster Hearts, the second in a run of albums with America that expanded their elemental style. Martin also brought engineer Geoff Emerick, a key figure in the Beatles' late-period studio renaissance.
Source: ultimateclassicrock.com