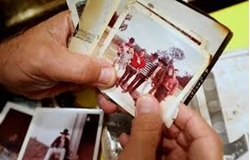 Fort Worth man remembers the weekend the Beatles spent at his family's ranch. Reed Pigman was 14 years old when the Beatles visited his family's ranch in Missouri for a weekend during their 1964 U.S. tour.
Hardly anyone asks Reed Pigman anymore about the time the Beatles came over to his house. But then again, hardly anyone in 1964 knew they visited his family's ranch in the Missouri Ozarks.
In a thick file in his office at Meacham Airport in Fort Worth, Texas, Pigman keeps snapshots of a top-secret charter airline side trip that remains mostly unknown to Beatles fans.
Pigman was 14. It was 55 years ago, after the Beatles' raucous concert at the Dallas Convention Center on Sept. 18, 1964.
Before that show, the Fab Four were supposed to have a day off. But Charlie O. Finley, then owner of the Kansas City A's baseball team, paid Beatles manager Brian Epstein an unheard of sum — $150,000 — to add a Sept. 17 concert at the old Municipal Stadium.
The Beatles needed a break.
Source: Amanda McCoy/kansascity.com