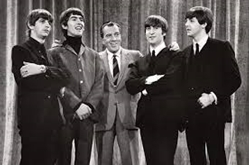 It was 56 years ago; nearly 73 million people were watching when "The Ed Sullivan Show" went on the air and The Beatles took over music forever.
John Lennon, Paul McCartney, George Harrison and Ringo Starr, fresh from Liverpool, England, kicked off the first of three Sunday appearances on the variety on Feb. 9, 1964.
A screaming crowd and national television audience watched that first show, and the yelling did not subside as the quartet sang five songs over two sets.
Here are five fun facts about that smashing debut:
Source: Dayton Daily News