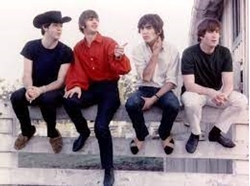 When a Beatles song appears in movies and television shows, it usually means that the production paid a good deal of money for the right to use it. The Beatles have maintained such a powerful influence on popular culture that the weighty price tag is typically worth it. Here are seven perfect uses of Beatles songs in movies and television.
1. 'With a Little Help From My Friends' in 'The Wonder Years'
One of the most prominent examples of a Beatles song in popular culture is "With a Little Help From My Friends" in The Wonder Years. The show uses Joe Cocker's version of the song over the opening credits. According to actor Dan Lauria, Paul McCartney pushed Apple Records to let the show use the song. They agreed, as long as it was Cocker's version (via Mel Magazine).
The song was a perfect fit for The Wonder Years. Cocker's version has the ideal amount of nostalgia for a show about friendship and growing up.
2. "Here, There and Everywhere' in 'Friends'
In the tenth season of Friends, "Here, There and Everywhere" plays in the episode "The One With Phoebe's Wedding." The rendition of the song is played on steel drums as Phoebe walks down the aisle.
Source: Emma McKee/cheatsheet.com