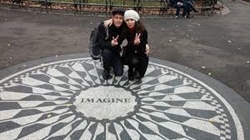 The New York City neighborhood in which John Lennon called home for years has many iconic locations that serve to remind us of his legacy there. His wife, Yoko Ono, continues to live at The Dakota apartment building at the corner of Central Park West and W. 72 St. that the couple shared for years.
Directly across the street in Central Park are both Strawberry Fields and the lovely Imagine mosaic.
Add another to the list, albeit temporarily. Carmen Paulino, who calls herself a community artist, has wrapped a tree on 79th Street, between Broadway and Amsterdam Ave., with a crocheted artwork she calls the John Lennon Tree. The elaborate installation went up in June and is the handiwork of Paulino, herself a local from Spanish Harlem, with the assistance of several others. It's conveniently located in front of a yarn store named Knitty City, which provided Paulino with the materials.
Source: bestclassicbands.com