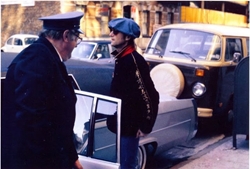 John Lennon, singing-songwriting sensation and iconic co-founder of the Beatles, is undoubtedly one of the greatest musicians of all time.
Alongside Paul McCartney, Ringo Starr and George Harrison, Lennon successfully built the most commercially successful band in the history of popular music and inspired countless future musicians.
After calling time on the Beatles, Lennon began to record as a solo artist and later recorded numerous tracks with his wife Yoko Ono. What followed a string of hugely successful solo tracks was Lennon's decision to seemingly disengaging himself from the music industry in 1975 to raise his infant son Sean.
After a little time away, the Beatle re-emerged in 1980 alongside his wife Ono with their 1980 album Double Fantasy and, with it, he was thrust back into the spotlight.
Source: faroutmagazine.co.uk