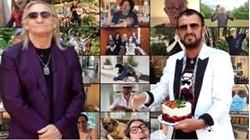 "I'm celebrating with my friends in a new way this year — we're going to have to keep our distance due to the coronavirus," Ringo Starr said
Ringo Starr celebrated his 80th birthday on Wednesday with a virtual 65-minute show that included old and new performances by himself and famous friends.
The stream was raising money for a number of organizations, including the Black Lives Matter Global Network for the fight to "end all this racist violence," Starr said, as well as The David Lynch Foundation, MusiCares and WaterAid.
"As most of you know, I'm fond of a good birthday party… but this is a bad year to host a get-together of any kind," said the famous ex-Beatle, sitting behind a drum kit wearing a colorful face mask adorned with the peace sign, according to Variety.
Source: jpost.com