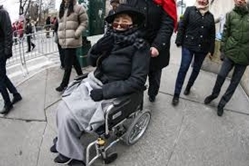 Three years ago, when the National Music Publishers' Association presented Yoko Ono with their Centennial Song Award, Sean Lennon pushed his mother onto the stage at Cipriani 42nd Street in a wheelchair — shocking some who didn't realize the formidable avant-garde artist was incapacitated.
But in her signature shades, black leather jacket and white Panama hat, the widow of John Lennon didn't seem to miss a beat when she began a short acceptance speech by ­addressing the elephant in the room.
"Thank you, thank you, thank you," she said, clutching the award in one hand and a microphone in the other as Sean whispered to her about what was going on. "I've learned so much from having this illness. I'm thankful I went through that."
While it's not clear what "illness" she was referring to, Ono, now 87, is still ailing, requires round-the-clock care and rarely leaves her sprawling apartment in The Dakota, a source close to her staff told The Post. In photos taken at rare public appearances — including a women's march in Columbus Circle last year and at a commemoration of John in Liverpool in May 2018 — Ono is confined to a wheelchair, or walks with great difficulty using a cane, often leaning on a caregiver or Sean for support.
Source: Isabel Vincent/nypost.com