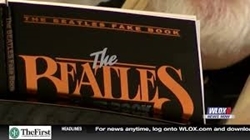 All three are the names of songs made famous by the Beatles and on Sunday, the lyrics of those songs and more became the background for a real-life proverb.
St. Peter's By the Sea Episcopal Church hosted a special mass Sunday evening using the music of the Beatles as inspiration to spread a message of hope, love, and community.
Hundreds filled St. Peter's By the Sea Sunday evening for a special mass celebrating the message behind the music of the Beatles.
lassic Beatles songs rang out for over an hour in the downtown Gulfport church. While mixing pop bands and religion might not be considered common, it is something that St. Peters has done a couple of times, much to the pleasure of those who attend.
Rev. Patrick Sanders has fused his love of music and God before, hosting a Grateful Dead mass and a Beach Boys mass.
"I love music and I love the church," explained Sanders. "So it is a really amazing thing for me to be able to put those two parts of my life together in a moment, and I think all our musicians feel that way, both the choir, the kids that sang tonight, and all the different people who participated."
Source: Tristan Ruppert/wlox.com