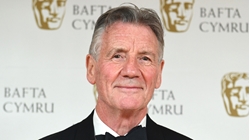 Michael Palin is just one of the many actors who have honoured the late George Harrison's film legacy in a new documentary, An Accidental Studio.
The 75-year-old English comedian, actor, writer and television presenter was one of the members of the legendary Monty Python comedy troupe.
Many of the movies he starred in and wrote throughout the 1970s and 80s - including Life of Brian and The Missionary - wouldn't have reached the big screen without the contribution of Harrison's filmmaking and distribution company, Handmade Films.
Ahead of the launch of the one-off AMC documentary film, Palin opened up to Sanjeev Bhaskar at London's Curzon Mayfair cinema about the impact Handmade Films has had on his life.
Source: Sophia Moir/tv.bt.com