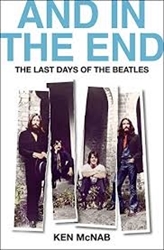 Ken McNab's in-depth look at The Beatles' acrimonious final year is a detailed account of the breakup featuring the perspectives of all four band members and their roles. A must add to the collection of Beatles fans, AND IN THE END is full of fascinating information available for the first time.
McNab, in a compelling month-by-month chronology, reconstructs the seismic events of 1969, when The Beatles reached new highs of creativity and new lows of the internal strife that would ultimately destroy them. Between the pressure of being filmed during rehearsals and writing sessions for the documentary Get Back, their company Apple Corps facing bankruptcy, Lennon's heroin use and musical disagreements, the group was arguing more than ever before and their formerly close friendship began to disintegrate.
In the midst of this rancor, however, emerged the glorious disharmony of Let It Be and the ragged genius of Abbey Road, their incredible farewell love letter to the world.
Source: gratefulweb.com