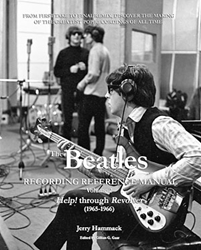 Musician, recording engineer and producer Jerry Hammack has just released volume 2 of The Beatles Recording Reference Manual - a book that reveals the secrets behind the recording of some of the band's most famous albums. It is the second of what will be a four-volume set.
In January, volume 1 was nominated for an Award of Excellence from the Association for Recorded Sound Collections (ARSC). The new book picks up where the first left off, covering "Help!", "Rubber Soul", and "Revolver" (1965-1966).
"This period in The Beatles' development is really fascinating," says Hammack. "It's a time where the demands of Beatlemania end and they are able to explore both from a songwriting and recording perspective. It represents the emergence of their unique voices as writers (think, 'In My Life') as well as their use of the studio to create sounds the world would never expect from a pop band (as in 'Tomorrow Never Knows')."
Source: beatlesnews.com