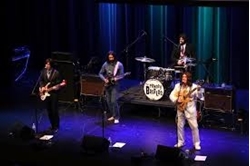 Dressed exactly as John Lennon, Paul McCartney, Ringo Starr and George Harrison once did, the Mersey Beatles, a tribute band, comes out onto the stage and immediately transports the Buskirk-Chumley Theater's audience back to the 1960s.
Beatlemania and the classic moptop hair, returned.
On the evening of Oct. 16, the auditorium of the BCT lit up with sing-alongs, dancing and laughter as the Beatles cover band, the Mersey Beatles, performed the entirety of the Beatles' eleventh studio album, "Abbey Road," as well as a set of the Beatles' greatest hits.
Audience attendee and Bloomington resident Michael Esposito was excited.
"My favorite song from the Beatles is 'While My Guitar Gently Weeps,'" Esposito said before the show began. "It reminds me of my family growing up. It's very nostalgic."
Source: Greer Ramsey-White/idsnews.com