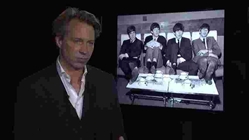 Giles Martin, the son of legendary Beatles producer George Martin, has returned to the original recording sessions for the "White Album" for a box set that includes demos, 50 studio outtakes and remixes. The new set coincides with the album's 50th birthday.
A recent Monmouth University poll found that the Beatles were far and away the most popular rock band of all time. Patrick Murray, director of the Monmouth University Polling Institute, and Ken Womack, a noted Beatles scholar and dean of the School of Humanities and Social Sciences at Monmouth University, discussed the findings in a Q&A with Press Editorial Page Editor Randy Bergmann.
The Beatles performed together for only about seven years. And it's been 48 years since they broke up. How remarkable is that The Beatles remain the most popular rock band of all time? And that 86 percent of those polled said they like the band?
Source: Asbury Park Press/app.com