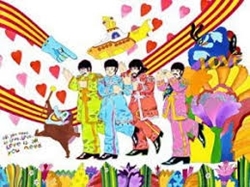 In 1964 the Beatles invaded the United States, performing on "The Ed Sullivan Show" for an audience of 73 million people. The Beatles went on to dominate the U.S. pop charts for years.
Now, more than five decades later, the Fab Four continue to be the most celebrated musical group in rock history and Beatlemania is alive and well.
"Lord of the Rings" director Peter Jackson recently announced he is going to be putting together a new film featuring footage from the Beatles' 1969 "Let it Be" sessions, and Capitol Records is re-releasing the Beatles' "Abbey Road" album at the end of September.
Last year marked the 50th anniversary of the release of the Beatles' classic animated film, "Yellow Submarine" (released in the United States on Nov. 13, 1968).
Source: centraljersey.com