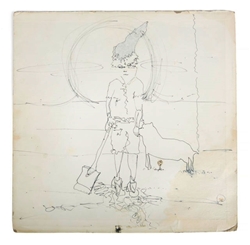 Julien's Auctions and The Beatles Story present a spectacular Beatlemania memorabilia auction on Friday, May 9-10th. The two-day event, Music Icons: The Beatles In Liverpool, held for the first time at The Beatles Story Museum in Liverpool, UK, the birthplace of The Beatles, as well as online at juliensauctions.com, will feature items from John Lennon's guitar strap and the Yesterday and Today 'butcher' album prototype, and a baseball signed by The Beatles.
John Lennon, signed Yesterday and Today 'butcher' sleeve, image courtesy of Julien's Auctions
In addition Julien's Auctions will partner once again with The Beatles Story to bring their Beatles and Merseybeat "Memorabilia Day" back home to Liverpool on Friday, May 10th 2019 (12-8 p.m. GMT) for a spectacular two-day Beatlemania event.
Source: Chris Jenkins/artsandcollections.com