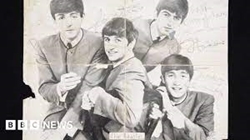 Two complete sets of Beatles autographs along with snapshots of Sir Paul McCartney and George Harrison will be auctioned. The signatures were collected by two then-teenage fans at gigs in Coventry and Nottingham in 1963.
The snapshots were taken at a stage door in Coventry before the Fab Four took to the stage.Both collections were expected to each fetch up to £4,000 at auction in Lichfield, Staffordshire, on 6 June.
The first set of autographs were collected when the Beatles performed at the Elizabethan Ballroom above the Co-op on Upper Parliament Street in Nottingham.
Patricia Florio's father was the Co-op's chief security manager at the time and she went to the concert with him and got their signatures in her autograph book.
"My grandad got to meet a lot of celebrities in his job and the autograph book is a wonderful piece of memorabilia," Mrs Florio's daughter, Bridget Gray said.
The book is being sold along with other memorabilia from the time including postcards of the Beatles.
The second set was collected by Gwen Payne, 74, when she was 14 and went with friends to the Coventry Theatre on 17 November 1963.
Source: Allen Cook/bbc.com