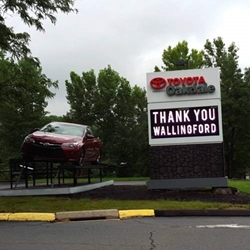 WALLINGFORD — More than 20 bands will come together for a Beatles music festival June 10 at the Oakdale Theatre, a new venue for the annual gathering.
The event said goodbye to Danbury, where it was held for the past five years, and hello to the Oakdale as part of an expansion, said Charles Rosenay, executive producer of Liverpool Productions.
"We have double the amount of bands," Rosenay said. "Moving to the Oakdale gave the flexibility of being indoors and outdoors."
The festival will incorporate the Oakdale's dome stage, dubbed Pepperland, as well as the outdoor patio, called the Octopus's Garden. If the rain comes, the outside stage will follow the sun inside to a breakout convention room.
Rosenay's entertainment agency conducts Beatles history tours of Liverpool and London every summer, and also produced Beatles conventions for several years.
He said the conventions focused on memorabilia and special guests, but the festivals are "all about the music."
A central Connecticut-based Beatles tribute band, the Hofners, is the finale band, "one of best bands in country," Rosenay said.
The Hofners, named after Paul McCartney's distinctively-shaped bass, will perform the entire "Sgt. Pepper's Lonely Hearts Club Band" album, songs the actual Beatles never played live. The group stopped touring in 1966, and their magnum opus was released the following year.
Rosenay said he expects the festival to draw 2,000 to 3,000 people.
"Every person who loves the Beatles, within driving distance, should come to such a great event," he said. "Where else can you see not just one but 20 bands?"
This year, Gene Cornish, a founding member of the Rascals, is the festival's special guest. The Rascals were contemporaries of the Beatles and scored hits with "It's a Beautiful Morning," "A Girl Like You" and "People Got To Be Free."
Cornish, a Rock and Roll Hall of Fame inductee, will be available to meet and greet, sign autographs and take photos.
Festival organizers have thought of every little thing; there will be food trucks, vendors and a partner hotel for those who need somewhere to stay the night before.
Concerts With Causes, a Wallingford nonprofit, will be distributing information about their organization.
Tickets start at $19.67 for general admission or, if you're a rich man, up to $39 for VIP with premium parking and seating.
At a glance
Fab4 Music Festival, featuring Beatles-inspired bands
When: 1 p.m. to 10 p.m. June 10
Where: Oakdale Theatre
Tickets: General admission $19.67, VIP with premium seats and parking $39