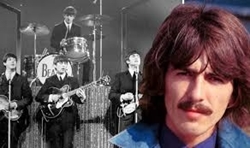 The Beatles all came from similar areas in Liverpool, but their backgrounds were not as closely linked. Nevertheless, they were able to make waves in the music industry ultimately even further afield than their hometown. Those relationships eventually fractured to the point where The Beatles broke up - by why did George Harrison threaten to quit the band at one point?
On January 15, 1969, The Beatles had a very important meeting.
John Lennon, Sir Paul McCartney, Sir Ringo Starr and George Harrison sat together for five hours, and George made it clear he was prepared to quit the band for good.
At this time, John had begun seeing his soon to be wife, Yoko Ono, who was placed at the centre of the band's break-up.
It turns out George was pretty furious about Yoko's presence with the band as well.
Source: Jenny Desborough/express.co.uk