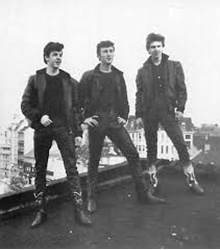 The German photographer shot some of the earliest pictures of the Beatles and helped shape their iconic visual style. Tributes poured in following her death, with Ringo Starr calling her "a beautiful human being."
Astrid Kirchherr, a German photographer famous for her early images of the Beatles in the 1960s, has died at the age of 81.
She died on Tuesday in her hometown of Hamburg just days before her 82nd birthday, her friend and fellow photographer Kai-Uwe Franz said on Friday.
German newspaper Die Zeit reported that she passed away following a "short, serious illness."
Kirchherr took some of the earliest pictures of the band during their time in Hamburg. In addition to her striking images, she's also credited with influencing the style of band's clothes and their infamous mop-top hairdos.
Source: Deutsche Welle (www.dw.com)