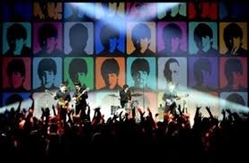 The end of The Beatles came in 1970 when Paul McCartney announced he was leaving the group, but 50 years later the music of The Beatles lives on and will be performed by The Return, an American Beatles tribute band. The show will be 7:30 p.m. Friday at the Egyptian Theatre, 135 N. Second St.
Founded in 1995, The Return is a tribute to the Fab Four and stars Georgia natives Richard Stelling, Shane Landers, Michael Fulop and Adam Thurston as John Lennon, Paul McCartney, George Harrison and Ringo Starr, respectively. For the first half of the two-hour performance, the band will be dressed in 1964 "A Hard Day's Night" themed costumes and will perform early hits from the touring years of 1963 to 1966, Fulop said.
This will include hits like "I Want To Hold Your Hand" and "A Hard Day's Night," as well as songs that influenced The Beatles such as "Twist and Shout" by The Top Notes and "Roll Over Beethoven" by Chuck Berry, according to The Return website.
Source: Parker Otto/northernstar.info