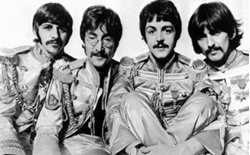 From 1963 to 1969, members of the official Beatles fan club were treated to a special Christmas record every December. And as the Fab Four drifted from mop-top pop to pioneering psychedelic grooves, those festive recordings got progressively stranger.
Enter the 1968 release, which included bizarre highlights like
Paul McCartney singing a holiday song in honor of Christmas, New Year's and Michealmas;
John Lennon narrating the story of 'Jock and Yono' — two amorous balloons whose lives parallel Lennon's relationship with Yoko Ono;
Ringo Starr having a drunken altercation with himself;
and George Harrison inviting Tiny Tim to belt out a high-pitched rendition of 'Nowhere Man.'
So how did the Fab Four get there? Well, scroll down to check out The Beatles' other records made in honor of Christmas — or Crimble, to use Beatle slang.
Source: James McClure - civilizedlife.com