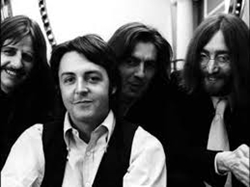 The Beatles
Apple Records
26 September 1969
Mendelsohn: The Beatles' Abbey Road is a little bittersweet, you know? The end of an era, the final dissolution, a grab bag of whatever they had left over before they went on to lives of obscurity and whatnot.
Klinger: Yeah, whatever happened to those Beatle guys?
Abbey Road is, underneath its sheen, a very sad album. I noticed that a lot as I was listening to it this time. Do you know what it's like? It's like when you're in a relationship that you know is coming to an end, but you both know that you really owe it to the other person to give it one last shot. So you put on your best clothes and head out to a nice place (maybe that place that used to be so special to you). You order appetizers and a bottle of wine and everything. And the thing is you have a pretty good time. The conversation flows freer than it has in months. You reminisce a little, you share a few secrets, and you even laugh a little about the whole situation. But even so, it's still over. And you both know it. And nothing's going to make it any less sad. But you have to go on anyway.
Source: Jason Mendelsohn and Eric Klinger/popmatters.com