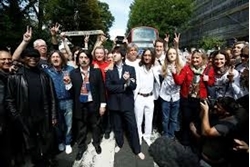 Photographer Iain Macmillan fired off just six snaps of John, Paul, George and Ringo — The Beatles — striding single-file across a zebra crossing while a police officer stopped traffic on Abbey Road.
Key points:
The image was taken at 11:35am on August 8, 1969
It became the cover image of Abbey Road, The Beatles' 11th studio album
Less than a year after the album was released on September 26, 1969, the band had split up
Fifty years on from that moment on August 8, 1969, it is estimated the suburban crossing in London, England, is photographed at least six times every hour, as thousands of fans seek to imitate what became one of the most enduring images in pop culture.
That count surged yesterday as fans gathered, some travelling from across the globe, to celebrate the milestone anniversary.
Source: abc.net.au