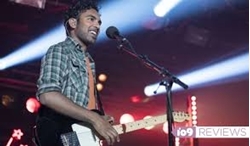 Danny Boyle's latest film, Yesterday, makes pleasure feel guilty, but it's not a guilty pleasure. Instead, it's an expertly crafted film telling the surprisingly complex emotional story of one man's impossible dilemma involving some of the greatest art ever made—and it makes us question our own personal morals in the process.
Yesterday centers on Jack Malik, played by newcomer Himesh Patel. Jack is a talented but struggling musician who gets into a terrible bike accident when a blackout strikes the entire world. He wakes up bruised, battered, and in a weird alternate reality where everything is almost exactly the same, except no one else remembers the Beatles. Except him.
It's a ludicrous, preposterous premise with unimaginable possibilities. Jack now possesses the keys to fame and fortune beyond anyone's wildest dreams. He also knows these keys don't belong to him, but no one else is aware of that. They just think he's some unrivaled musical genius unlike the world has ever seen. So, as he starts to play Beatles songs for people, he very quickly gets very famous, and instantly feels incredibly terrible about all of it.
Source: Germain Lussier/io9.gizmodo.com