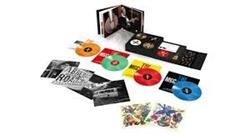 Bob Dylan. The Cure. Alice Cooper. Roger Daltrey. Brian Wilson. Def Leppard, Dr John. Kiss. Chrissie Hynde. Jeff Lynne. Heart. Steve Miller. Perry Farrell. Robin Zander & Rick Nielsen. Sammy Hagar. Paul Rodgers.
There are tribute albums and then there are tribute albums. The Art Of McCartney, a tribute to former Beatle Paul McCartney, is one of the latter, with a cast of performers that reads like a "who's who" of A-list rock stardom.
Launched in 2014, the super-deluxe version of the album (triple CD, quadruple coloured vinyl, DVD, 64-page 12" hardback book, etc) originally retailed at £240, but right now it's on sale for less than £90 at Amazon.
Source: By Scott Munro/loudersound.com