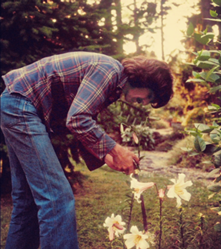 George garden idea grows
A GARDEN inspired by musician George Harrison is set to be created in Mill Meadows in Henley.
The location is favoured by the late Beatle's widow Olivia, who still lives at Friar Park, the home they bought in the Seventies.
Henley in Bloom is working with Gae Exton, from the Harrisons' charity the Material World Foundation, to develop the idea. Mayor Kellie Hinton, who chairs Henley in Bloom, said the charity would fund the project.
She said: "They are keen for the garden to be at Mill Meadows. It's a great location by the flowing water and away from traffic as well as being looked after by the council's parks team.
"They are happy to fund the garden and are not expecting us to come up with a huge amount of money as they are aware of our budget constraints." Giles Reynolds, the head gardener at Friar Park, will be involved with the design.
Councillor Hinton and council administrator Becky Walker will look around Mill Meadows for several possible locations for the garden. These will then be considered with Mrs Harrison and the charity as well as the Henley in Bloom committee. The final design will be signed off by the full council.
Cllr Hinton said the River & Rowing Museum, which is in Mill Meadows, would also be involved. Meanwhile, plans to improve a town entrance could receive a cash boost. Henley in Bloom has backed plans to renovate a green area in Bell Street near the mini-roundabout at Northfield End.
Source: Henly Standard