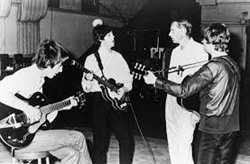 While The Beatles has their set roles in the band, you couldn't be certain you were hearing, say, George Harrison play a guitar solo even though he was the Fab Four's lead guitarist. Over the group's recording run, both John Lennon and Paul McCartney stepped in with the occasional guitar solo.
The instrumental switches didn't end there. On "She Said She Said," you get an example of Harrison taking over on bass after McCartney left the studio following a "barney" of sorts. And on "Back in the U.S.S.R.," you had multiple Beatles on drums after Ringo Starr walked out on the band.
But it can be even trickier to figure out who's playing piano on Beatles songs. Later on, McCartney would be pounding the keys on tracks such as "Lady Madonna" and "Martha My Dear." Yet you don't hear him tackling the piano solo on "Lovely Rita," recorded the previous year.
George Martin, the Parlophone Records chief who produced The Beatles, took the "Lovely Rita" solo, just as he'd done on Lennon's "In My Life" in '65. When the band recorded "You Really Got a Hold on Me" in '63, Martin had also taken the piano part.
Source: cheatsheet.com