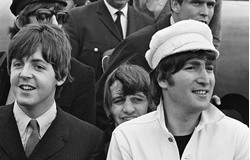 By the mid-'60s, it's fairly easy to tell who wrote the biggest part of a Lennon-McCartney song. The lead vocals usually gave it away. On Magical Mystery Tour, "Penny Lane" is a clear Paul McCartney number while "Strawberry Fields Forever" an obvious John Lennon song.
Even on a track like "A Day in the Life," on which both John and Paul sing, you know it's John song because he has the lion's share of vocals. (Paul came up with the middle section.) Later, as writers asked them to break down each Beatles tune, Paul and John mostly agreed who did what.
But there were some songs where they didn't remember it the same. For example, Paul remembered doing more on "A Day in the Life" and "In My Life" than it appears he did.
Speaking with Playboy's David Sheff the weeks before he died, John remembered having a sizable hand in the composition — most of the lyrics, in fact — to "Eleanor Rigby," a Revolver song that doesn't sound like Lenno at all. Yet Paul said he only wrote "about half a line."
Source: cheatsheet.com