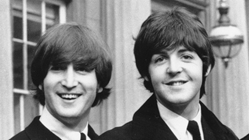 It's tough trying to figure out who wrote what in a Lennon-McCartney song from 1965 and earlier. In those days, they often composed (in John's words) "in each other's nose" and "eyeball to eyeball." That's how "I Want to Hold Your Hand" and other tunes came to be.
Later, when Paul spun tunes like "Let It Be" and "Hey Jude," you can't mistake it for anyone but him. The same goes for John's "Yer Blues" and "Come Together." They could only have been written by one person.
After the band split up, the old songwriting partners often answered questions about who was behind some of their best-loved songs. More often than not, Paul and John agreed about who wrote the tunes. However, there were two occasions when their recollections differed.
One of the disagreements came over the classic "In My Life" from 1965's Rubber Soul. While no one disputes John had the idea and wrote all the lyrics, Paul claimed he wrote the music. But everyone from John to Beatles producer George Martin and university data scientists have disagreed.
Source: cheatsheet.com