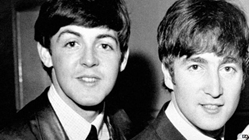 Being the world's most famous band can as stressful as it is exhilarating. Then there's the unprecedented level of fame and success The Beatles had. George Harrison once described the experience as "being boxed up for 10 years."
By the end, the band members' tempers flared on a regular basis. After The Beatles split up in 1970, the animosity carried over into their solo recordings. You can hear a little bit on George's All Things Must Pass, but Paul McCartney took it a step further on his second solo album.
That's when Paul took aim at John Lennon, who responded in savage fashion with 1971's "How Do You Sleep?" In other words, the ex-Beatles were officially at war in song, and the Lennon-McCartney partnership had flamed out in spectacular fashion.
Source: cheatsheet.com