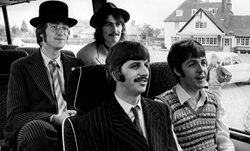 No one's ever been able to rack up No. 1 hits in America like The Beatles did. While their recording career only lasted seven years, their early contracts kept them producing multiple albums (and plenty of singles) every year.
As you can tell by glancing at the band's run on the Billboard charts, every Beatles studio album made was a major hit. Besides, there were years when they saw five different singles — and three different albums — reach No. 1 in the same year.
However, though 20 Beatles songs topped the charts, nearly all were written and sung by John Lennon and Paul McCartney. It wasn't until late in the band's run that George Harrison and Ringo Starr got near the top of the charts with tunes they wrote and/or sang.
Source: cheatsheet.com