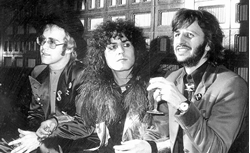 After The Beatles breakup in April 1970, it didn't take long for members of the band to tell their version of the story in song. Late that year, George Harrison offered an elegant tune about late-Beatles squabbling on his debut solo work, All Things Must Pass.
That song, titled "Run of the Mill," dropped subtle hints about his deteriorating relationship with Paul McCartney. "You'll arrive at your own made end with no one but you to be offended," George sang.
On Paul's side, his Ram album from 1971 zeroed in mostly on John Lennon and Yoko Ono. "Too Many People," in particular, pissed off John with its measured critique of John's activism and his relationship with Yoko.
Source: cheatsheet.com