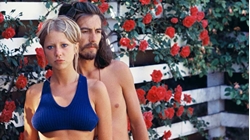 f you remember the '60s, you weren't there: so it is said of that explosive decade of sex, drugs and rock'n'roll when girls sashayed down the Kings Road in tiny skirts and Biba boots, boys wore ruffled shirts over tight velvet trousers and London was the epicentre of cool.
Oblivion came with the territory: Eric Clapton was supposed to have slept with more than 1000 women but as he told me in an interview for Fairfax Media, "I wouldn't know, I was in a blackout for quite a few of them".
Pattie Boyd and her then husband George Harrison in England in 1968.
Pattie Boyd was both muse and wife to Clapton, to George Harrison before him and no stranger to drug and booze-fuelled partying. But there was little danger of failing memory for her. She kept a record of the wild years – portraits and reportage style snaps taken with a Polaroid and, later, on a Hasselblad.
Source: Jane Wheatley/smh.com.au