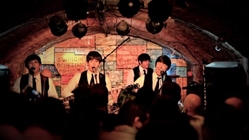 FANS of The Beatles who caught them perform at Port Sunlight's Hulme Hall back in the 1960s are being asked to come forward for a starring role in a tribute show.
World famous Beatles tribute The Mersey Beatles are playing the same towns, cities and venues the original Fab Four did during the days of Beatlemania and will perform at Hulme Hall on October 31.
The band performed at the village hall around four times, most famously on August 18, 1962 when Ringo Starr made his debut as the band's new drummer.
Now The Mersey Beatles want to hear treasured stories and memories from fans of John, Paul, George and Ringo when they played in Port Sunlight in 1962 so they can project them onto a screen at their Hulme Hall show.
Source: Lauren Jones/wirralglobe.co.uk