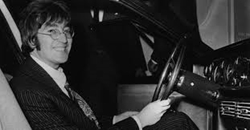 The Ferrari 330 owned by John Lennon was, in fact, his first car, which is a bold move for someone who just got his driver's license.
It's hard not to remember what the Beatles were and how much they influenced the lives of people. Their songs touched the lives of many and could be felt to the core by each and everyone regardless of their age. John Lennon and Paul McCartney helped shape the band and played a significant role in its success. Upon reaching incredible heights and literally becoming a global sensation, the Beatles started to become more influential and had a few bucks to spare on luxuries.
Known for extravagant purchases and being outspoken on many occasions, John Lennon was equally as good at creating controversies as he was good at music. That aside, as with every passionate artist, he was an avid fan of exotic sports cars, especially Ferrari.
Source: Kiran Menon/hotcars.com